David R. Franz, D.V.M., Ph.D.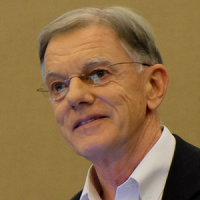 Dr. Franz served in the U.S. Army Medical Research and Materiel Command for 23 of 27 years on active duty and retired as Colonel. He served as Commander of the U.S. Army Medical Research Institute of Infectious Diseases (USAMRIID) and as Deputy Commander of the Medical Research and Materiel Command. Prior to joining the Command, he served as Group Veterinarian for the 10th Special Forces Group (Airborne).
Dr. Franz was the Chief Inspector on three United Nations Special Commission biological warfare inspection missions to Iraq and served as technical advisor on long-term monitoring. He also served as a member of the US-UK teams that visited Russia in support of the Trilateral Joint Statement on Biological Weapons and as a member of the Trilateral Experts' Committee for biological weapons negotiations.
He was Technical Editor for the Textbook of Military Medicine on Medical Aspects of Chemical and Biological Warfare released in 1997. Current standing committee appointments include the National Academy of Sciences Committee on International Security and Arms Control where he chairs the 'biological panel', the Defense Threat Reduction Agency's Threat Reduction Advisory Committee (TRAC) and the American Society for Microbiology Committee on Biodefense, which he chairs. He serves on the editorial board of the Indian Defence Life Sciences Journal and the Chinese Journal of Biosafety and Biosecurity. He also serves on the Board of Integrated Nano-Technologies, LLC.
Dr. Franz holds an adjunct appointment as Professor in the Department of Diagnostic Medicine and Pathobiology at the College of Veterinary Medicine, Kansas State University. The current focus of his activities relates to the role of international engagement in public health and the life sciences as a component of global health-security policy. Domestically he continues to encourage thoughtfulness when regulating research in the name of security, thereby minimizing negative impact on progress in the life sciences.
Dr. Franz holds a D.V.M. from Kansas State University and a Ph.D. in Physiology from Baylor College of Medicine.